Super-Concentrate Apparel Laundry Wash Detergent Powder
----Automatic Super-Concentrated

*Specially contained two-way stain separating element, removes blood, sweat, butter, milk and other stubborn stains effectively, moreover prevents stains re-filtering. Makes your clothes as bright as new.
*Highly effective formula with surfactant, builder and enzyme affords higher, thorough cleaning effect with only one spoon.
Applicable to
machine wash
. Water-efficient and energy-efficient.
High Efficiency with Less Foam, Machine Caring!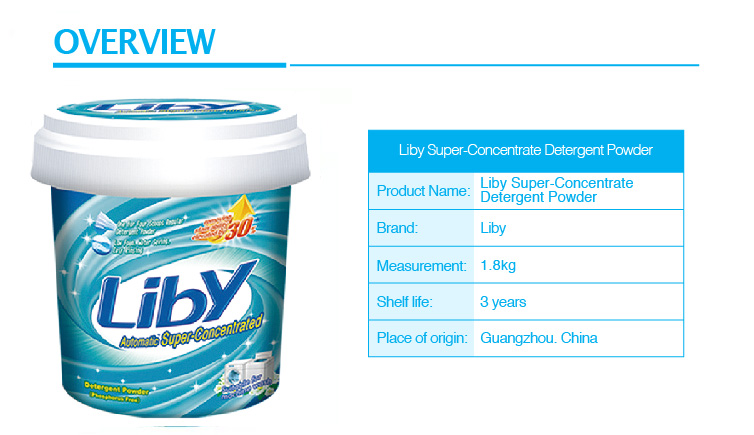 Model Number
900g
Material
anionic surfactant,nonionic surfactant,detergent builder
Color
white
Perfume
flower scent
Feature
phosphorus free

,mild on hand,fresh scent,super clean

Applicable
clothes washing

,laundry detergent,fabric washing

Weight
900g/1.8kg/2.68kg
Packing Style
plastic bag
Payment Terms
100% payment before shipment
Shipping
AS CUSTOMERS ARRANGED
Retail Package
Transportation
Pack (weight*quantity)
G.W(kg)/ CBM(m³)
Package
Plastic Box
Carton
900g*12
10.3/0.036
Usage and Dosage:
Types of washing
Hand washing
Machine washing
Laundry loads
5-8 pieces of clothes
5-8 pieces of clthes
3-4 pieces of clthes
Dosage
1-2 spoonfuls only
1-2 spoonfuls only
1 spoonfuls only
Guide
For heavily soiled clothes, please increase the amount and properly prolong the soaking time. Wait until the detergent powder is fully dissolved in water before putting in the clothes for immersion.Decrease the water volume, which just immerse clothing. Preferably immerse in warm water for better result.
More Products:
Founded in April 1994 as the Guangzhou Liby Lavation Articles Co., Ltd., we were re-established in February 1998 as a group company. Comprising 6 wholly invested enterprises, 7joint ventures, 4 branches in other provinces and 23 production bases around China, we are selling products in 8 series under our 'Liby', 'Caiqi' and 'Chaowei' brands.
Under intense competition from multinational corporations that have entered the domestic market, we have stood firm and created a well-known trademark. Currently expanding our presence in both the local and international markets, 'Liby' brand cleaning and hygiene products have won a high reputation for their good quality and functionality. According to research conducted by of AC Nielson, our laundry products have maintained first place in the Guangdong provincial market for several years, and second place nationally since 2000.
If you are interested in any of our detergent, dishwashing liquid, washing powder, toothpaste, soap, bleach, fabric softener or toilet cleaner series, please contact us now. Welcoming buyers' customized orders, we look forward to hearing from you soon