Although BMX bikes have been on the market for quite some time, they are highly recommended for off-road racing and other sports. These bikes are crafted in different materials ranging from aluminium, steel, and even carbon fibre. Other than enjoying racing and other leisure ride activities, these bikes are superb and reliable for the bike freestyling moves done on the streets.
What are the significant features of BMX bikes?
Since the bike is recommended for freestyling and for racing, it is designed in two different materials to fit every activity. The BMX for racing is made of aluminium material because generally, aluminium is super light in weight, and one can move in different areas with the bike. It is ideal for both short and long races considering it does not have much bulkiness.
On the other hand, those who want the bike for freestyling should consider steel made BMX bikes. Steel is durable and stiff material that provides the right balance when the rider is making moves on top of the bike, and it also offers excellent stability when you shove it around.
The racing BMX bikes come with two brakes, one equipped on the front part and the other one at the back, although the majority of racers remove the front brake to increase speed and allow smooth ride when competing. The freestyling BMX bikes are equipped with both front and back brakes, although some models have gyro that allows the bars to spin at a 360 degree without tangling the brake cables.
For the racing bikes, the front wheel is relatively more substantial than the back to increase acceleration and good movement on different surfaces. The racing bikes have knobbly tires to ensure proper gripping when moving on uneven surfaces. The freestyling bike tires have tarmac oriented tires that are made of rubber material to provide grip when used on different surfaces.
The BMX bikes have two steel bars.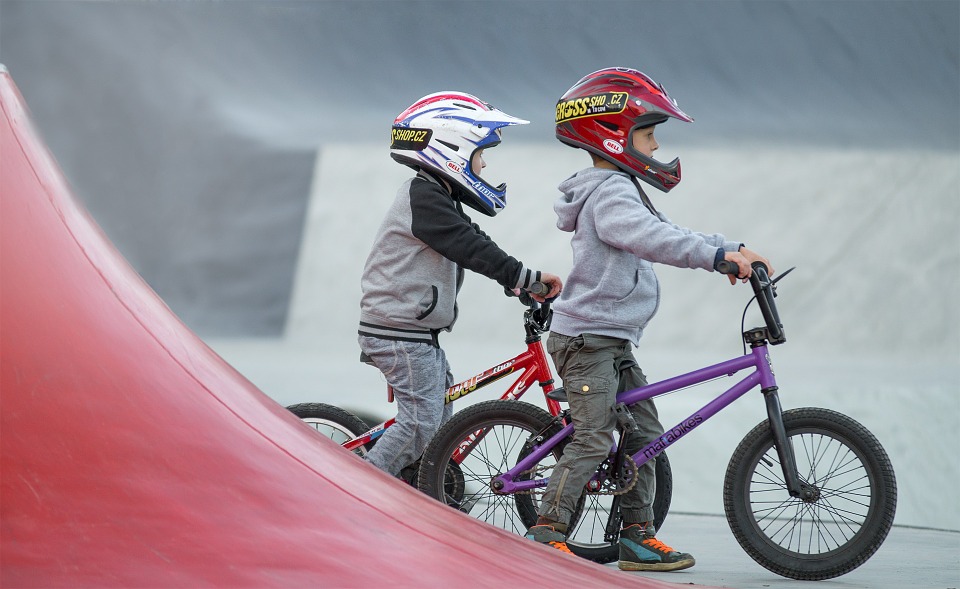 Types of BMX bikes
These BMX bikes have 20-inch wheels and have either both front and back brakes or none. They are made of steel materials to ensure stability.
These are perfect bikes of those who like to perform stunts and riding tricks using a bike. The bike allows one to have a smooth landing on the surface.
These are the perfect riding bikes for various roads, including those with obstacles such as areas with potholes, curved walls, and even handrails.
These BMX bikes are made of sturdy and thick materials but are quite light in weight to allow one to have an easy time when jumping up.
These are the perfect bikes for racers. They are mainly made of aluminium material and have wide front wheels to allow excellent movement on different surfaces. Note that this BMX bike can be used as an electric bike since all you need is to install a battery to power it for smooth movements.
Conclusion
BMX bikes come in different types for various activities such as racing, jumping stunts and even for freestyling purposes. The purpose of the bike determines the features to look for. Therefore, this should be the first thing to consider before choosing the type of bike. For example, if you need a BMX racer bike, make sure it is made of lightweight, and the front wheel is relatively wider to ensure smooth maneuvering on different surfaces. Check out any other bike kit that you may need for your biking activities.